A Clean Sweep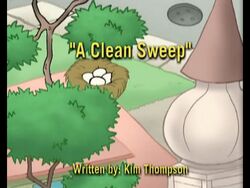 Mom is sick and One is put in charge. Despite Mom telling her to come and ask for help if needed, she tries to do it all herself have everything under control.
Three is Rod Threeling again in this episode since ''Spooky'', but in a different hairstyle.
This is the second episode where the monsters do their chores for the day.
Ad blocker interference detected!
Wikia is a free-to-use site that makes money from advertising. We have a modified experience for viewers using ad blockers

Wikia is not accessible if you've made further modifications. Remove the custom ad blocker rule(s) and the page will load as expected.